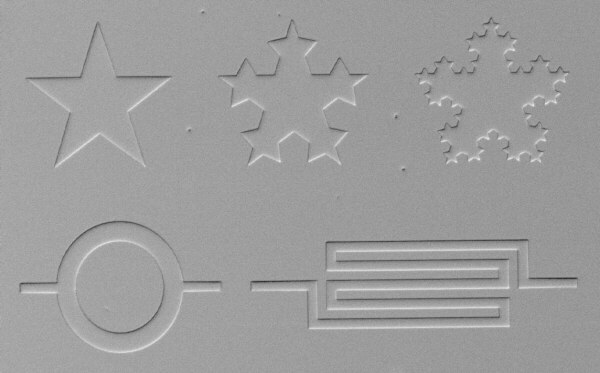 This shows the entire pattern when it is exposed with a dose that fully clears the PMMA.

The images below show parts of the same pattern when a low dose is used with a field emission SEM. The center-to-center spacing of the exposure points is only 50 nm, which means that the dots size is on the order of 15 nm or smaller.

Because the resist was ~200 nm thick, the dots shown below may not be developed completely through the resist, however, the size and regular placement of the dots shows that the SEM had very little external noise affecting the beam. When there is external noise, the dots will not be as uniform and evenly placed as shown below. Consequently, exposing a pattern such as this one at a low dose provides a very good diagnostic test of the beam optimization and the noise environment of the microscope.

Note that a field emission microscope will typically be able to produce isolated dots on a 50 nm x 50 nm grid, while a W or LaB6 microscope will rarely be able to make such small, closely spaced features.